Virtual appointments or Telehealth. Historically it has been thought that telehealth is of a lower standard of care compared to in-person care. We are currently finding ourselves as a society launched into a whole new realm where these remote options are truly the best, highest standard of care for the community.
Telehealth is a way to receive continuous care from your health care provider by phone, email or virtual services. Our health care providers have extensive experience and knowledge, and are able to discuss, assess and treat a wide variety of injuries. Common treatments through telehealth include educational tools, exercise prescription, progression of home exercise program, pain management, self mobilization, and movement re-training.
We at Warman Physio are a multidisciplinary group of experienced, compassionate health care providers who wish to help you reach your health and wellness goals. The physiotherapists, dietitian and registered social worker are moving into telehealth services currently to allow us to continue to provide you with care during this current climate of physical distancing.
As much as change is difficult for everyone, we believe that telehealth services will be here to stay. This is why we have taken our time ensuring that the client experience will be as seamless as technology will allow. We see and hear the difficulties our clients and community are continuing to experience through this crisis, and we want to be able to show up in a tangible and reliable way. Just because we are safe at home doesn't mean we don't still see people needing guidance from the therapists!
What is Telehealth?
Telehealth is a way to receive continuous care from your health care provider by phone, email or virtual services. Our health care providers have extensive experience and knowledge, and are able to discuss, assess and treat a wide variety of injuries or health conditions. Common treatments through telehealth include:
For Physiotherapy: educational tools, exercise prescription, progression of home exercise program, pain management, self mobilization, and movement re-training
For Dietitian: nutrition assessment, full diet history assessment, tailored dietary advice, and educational resources and recipes
For Counselling: services based around adult and child/youth pain sessions and general counseling sessions including behaviour modification and various tools
About Telehealth
Telehealth service provision will not be the same as an in-person client/health care provider visit due to the fact that it will not be in the same room as your health care provider. Certain portions of the objective examination may not be possible to perform due to this
Advantages of telehealth include the benefit of continuity of care in the physical absence of your clinician or yourself in clinic, as well as the ability to be treated from any location as long as your primary residence is located in Saskatchewan

For our dietitian clients can be located in Saskatchewan, Manitoba, Ontario, Quebec, New Brunswick, Nova Scotia or Newfoundland

Our telehealth service uses secure, end-to-end encryption, and is HIPAA & PIPEDA compliant
Telehealth services is not appropriate for everyone, and we will help you determine the best course of action
Who is Best Treated via Telehealth?
You can expect to receive the same exceptional care through our telehealth services as you would in the clinic. For example, your physiotherapist will work to understand your injury from a detailed subjective history, visual observation of movements, range of motion, self palpation, and functional movements. However, although many situations are served well by telehealth, not everything will be appropriate.  Your health care provider will inform you if they feel they will not be able to help you. Counselling services can be provided remotely via phone or video conferencing as well and can be appropriate for nearly anything you would see your counsellor in person for, as is true of the dietetics services. For more information on each area, please see below!
*Please note, health care providers may direct you in another direction (e.g., in need of urgent care) or the type of referral you may need to receive from your family physician to move you forward in your care.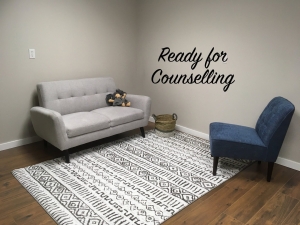 Counselling Services
Pain Management Adults/Children, Life Management Strategies Adults/Children
Jennifer King provides counselling in pain management strategies for adults and children and general mental health. Using a range of strategies, she works with you to develop a pain management strategy that works for you, using appropriate remote virtual appointment software that is encrypted for client confidentiality.
Services provided by Jennifer King RSW
Warman Physiotherapy & Wellness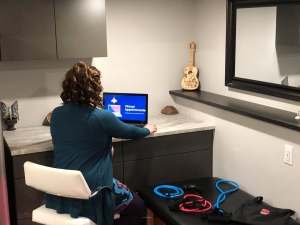 Physiotherapy Services
Orthopedics, Pelvic Health, Pediatric Pelvic Health, Infant Development
Our physiotherapists are available for virtual appointments that are similar to Facetime or Skype, however, it is provided through a secure encrypted system to ensure confidentiality.
We are able to provide care for orthopedic issues and injuries, pelvic health issues for all ages and genders, infant development assessment and treatment.
Services provided by Physiotherapists:
*Shannon Domres
*Maja Stroh
*Haylie Lashta
*Kendra Usunier
Warman Physiotherapy & Wellness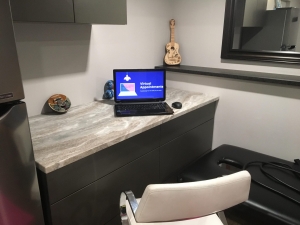 Nutrition Services
Registered Dietitian, Nutrition counselling Adults/Children
She offers individual counselling in various areas including weight management, chronic disease management, gastrointestinal disorders, allergies/intolerances, sport nutrition, meal planning and more!
Services provided by Heather Tulloch RD
Warman Physiotherapy & Wellness
How does it work?
To book please contact us via email, info@warmanphysio.com or by phone 306-373-9355 (check out the contact form below as well!)
After booking your assessment or follow up appointment, you will receive your telehealth intake form. The form will be emailed to you as soon as you book your appointment. Please take the time to complete this form prior to your appointment
 *Please note, if you are a returning client, you will also need to fill out our new intake form, as it contains new information pertinent to your telehealth appointment
You can join your telehealth appointment using either a cell phone/iPad or a desktop computer
*Please note, from a desktop use google chrome or firefox web browser
 *Please note, to use iPhone/iPad, you will need to download the JANE app
Please arrive to your appointment a few minutes early
When your healthcare provider is ready they will welcome you with live video connection in your private and secure one-to-one appointment.
Here are a couple of helpful hints for you to get the most out of your telehealth session
If you have never logged into your account before, take a minute to get familiar with your account
If you cannot remember your login information we can send it to you. Just touch base via an email back, we are happy to help!
Wear comfortable clothing, ideally that allows for easy observation of the area you are having difficulty with (ie shorts for a knee issue, or tank top for a shoulder/arm issue)
Set-up somewhere comfortable, relatively quiet and well lit, where you have some space to move around. Being in a space that is private may also be beneficial if you are not wishing to be overheard during your session
Think about what you would like to get out of the session and write things down that you would like to cover
Having a head set or ear buds can help reduce the background noise. The device you use should also have a camera
Log into your appointment with a mindset like you would have as if you were walking into the clinic
The Jane server we use is compatible with all devices. However, please note with phones and iPads/tablets you will need to download the Jane app
What about benefits?
At this time Warman Physio is accepting payment directly and the client is submitting their receipts to their benefits providers. Previously telehealth services have not consistently been covered through benefits. As the companies come to a consensus we will resume direct billing options. Payment can be made via e-transfer to info@warmanphysio.com at this time and a receipt will be emailed at the time of receipt of payment, which can be submitted to insurance companies with all pertinent information!
But I still want to come in-person – what do I do?
1. Complete your COVID screening questionnaire(s) prior to your appointment
2. When you arrive please wait in your vehicle and check yourself in using the QR code on the poster on the front of the building or by visiting WarmanPhysio.janeapp.com/check-in
3. We will send a text message 5 min prior to your appointment ** It is paramount that you CALL us prior to coming in if you have any issues completing your COVID-19 questionnaire **
4. Apply your medical mask before entering
5. Expect to be using hand sanitizer proceeding to the waiting room or into your treatment room
6. Your therapist may be wearing variable amounts of PPE depending on the treatment and their own comfort levels
7. If you are feeling at all unwell please re-book your appointment – ideally keeping the 24 hour cancellation policy in mind