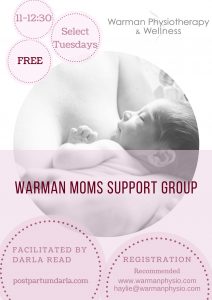 Warman Physio is pleased to be the chosen location for a support group for moms. This informal support is a way to create community, connections, and allow us to give back to our community. Thank you to Darla of Postpartum Darla for bringing this offering to our space.
By donation.
Please register so we can have the space ready for you, and aren't overcrowded. Register through our
Book Now
OR with
Post Partum Darla
Note: We come as moms first. Many moms are also business owners, but we ask that any talk of your business take place after the meeting so that we maintain a safe space for sharing our experiences.