Pelvic floor dysfunction is not just a problem for women… after all, everyone has a pelvic floor!
A study by MacLennan et al, reported that 4.4% of men have self reported problems with urinary incontinence (inability to control urine) (1). If you take the population of Saskatoon, which in July of 2018 was reported at 278,500 and divide that in half you have approximately 139, 250 males (2). 4.4% of the Saskatoon population will give us 6, 127 men that have problems with leaking or controlling their bladder. Keep in mind that urinary incontinence is only one of many potential issues with the pelvic floor.
The crux of the issue is that pelvic floor health can be a big problem for both women and men.
  There has always been a stigma around men seeking help for any issue, let alone their leaking bladder, erectile dysfunction, and pelvic pain. Men need to understand that they do not need to live with these stressful and often embarrassing problems.
Pelvic Health Therapists are specifically trained to help men and women with a vast majority of their pelvic floor dysfunctions. The pelvic floor is a bowl of muscle that surrounds the external openings, in men that is the urethra (the tube you pee out of) and the rectum.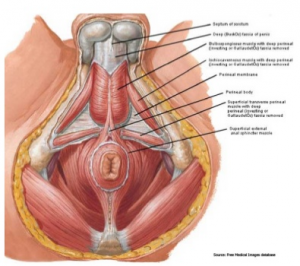 The muscles are the same as any others in the human body and therefore they are treated similarly.  In a good number of cases urinary incontinence is related to the lack of strength, coordination, and increased tension/tightness of the pelvic floor muscles that close the urethra. Then when the bladder is full, or someone has the urge to pee they cannot stop themselves. By simply teaching someone to relax, strengthen and coordinate their pelvic muscles, urinary incontinence problems can often be resolved.
If the pelvic muscles are too tense it may cause pain in the perineum, abdomen, low back or inner thigh. Relaxation exercises and manual therapy skills can be applied to achieve relief. Strengthening pelvic floor muscles and addressing other contributing factors can often lead to the resolution of erectile dysfunction and healthier sex lives (4). Men need to understand that the tools and resources are out there to help them with their pelvic floor dysfunction, part of which may be pelvic health physiotherapy assessment and treatments.
In short, I am asking that men take it upon themselves to seek out help for their pelvic floor dysfunction and in return understand that they will be treated with privacy, respect, and compassion. Waiting and suffering in silence doesn't need to be the case; we are here to help you, help yourself. I have had the privilege of treating many men and women struggling with dysfunction, and the experience has been rewarding for myself and the people who have trusted me to help them.
Book a pelvic health assessment with Scott
Book an orthopedic assessment with Scott

Scott Golding is a Pelvic Health Physiotherapist that has a special interest in male pelvic health and rehabilitation. He is passionate about advocating and supporting men in their pelvic health journey. He has completed the U of S Level 1 and Pelvic Health Solutions courses for pelvic health Level 2, and 3 in addition to orthopedic and integration of pain science courses. He has been working with both women and men for pelvic health and orthopedic issues since graduating in 2016.
He is driven to provide excellent care in a safe and comfortable environment for his patients. Scott believes that pelvic floor health needs to be a fundamental aspect of a healthy life, as many individuals struggle in silence. 
"My future goals include becoming a strong support and resource for men as it relates to pelvic, and general health. I want to help decrease and remove the stigma associated with male pelvic health and provide exceptional resources for men who need or are seeking help."
https://www.warmanphysio.com/wp-content/uploads/2019/06/pierrick-le-cunff-38833-unsplash.jpg
1664
2496
Haylie Lashta
https://www.warmanphysio.com/wp-content/uploads/2016/05/warmanphysio-300x110.png
Haylie Lashta
2019-06-10 10:00:50
2019-06-10 08:24:18
Pelvic Health for… Men?!