My Broken Pelvis: Part 2 – Pubic Symphysis

Lightning Crotch. Ouch! Our pubic symphysis is the point where the two halves of our pelvis meet in front – the bone at the top and front of the groin. For those that have had pubic symphysis dysfunction (PSD) or "lightning crotch" you well know that this can go from slightly irritating pain to WHAT IS GOING ON HERE! B(#%P! pretty quickly.
Commonly associated with pregnancy, we well know that individuals suffering with PSD can get to a point of despair and resignation that this pain will become a new normal; often because that is what we are being told about pain during pregnancy! "This is just part of becoming a woman" is a term I have heard yet again this past week from a client. I urge us to think of pain in pregnancy (any pain, but in this instance PSD), as something that although is common is not normal.
We wouldn't tell someone who has just started running that has developed knee pain that "this is just part of becoming a runner – it will go away when you stop
There is research now that shows that pain in pregnancy can often be addressed with physiotherapy (1,2) – from PSD to back pain, and that staying active during pregnancy (3) has many benefits (which is hard to do when you are painful!). When there is pain, there is usually something we can do about it!
Case Study
An active mother of 28 comes into the clinic complaining of groin pain – it's sharp, shooting, sometimes take your breath away pain that is getting progressively worse as her pregnancy continues on. She is only 26 weeks gestation and has been struggling with pain since about 16 weeks and finally decided to come to an appointment after talking with a friend about it. She is having difficulty rolling in bed (she tries squeezing her knees together because that is what she read on a few blogs on google) which has helped a little but not much, standing on one leg, and she sometimes notices popping and clicking with movement that really hurts as well. She tried kicking an empty laundry basket out to the side the other day and found that extremely painful as well.
Although there are many reasons for PSD, we will go through some of the things that may be found during a physiotherapy assessment of this type of pain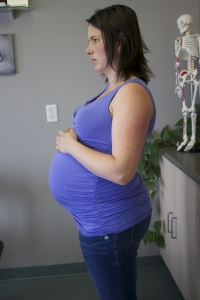 Upon evaluation the client was clearly limping while they were walking, more on the right than the left leg, they had pain with standing on the right leg more than the left leg, and had difficulty bringing their knee toward their chest on both sides in standing. Generally speaking these individuals will have some restriction of movement on one side (same side as pain or the opposite – everyone is different!), significant muscle tightness of the inner thigh, and poor coordination of the gluteals. We also often see a change in posture – the individual may be hinging backwards (rib cage back over the pelvis), but there is a huge variation in the changes seen here depending on the underlying cause.
What can I do NOW?
In many instances our protective mechanisms related to pain may end up being one of the additional driving factors of our pain – your groin hurts, and when you hurt you tend to 'protect' the area (curling in) and the muscles around the area will tighten. Increased tension often doesn't help serve us to feel better or less painful, but may drive a continued pain cycle! Squeezing the knees together to roll like in this instance, may help initially, but overall results in increased tension and often stops being helpful over a short period of time. Relaxing the muscles – particularly the inner thigh – and activating the gluts can go a long way to improving PSD pain. As always, an individual assessment is best, but when you are rolling over, try pushing yourself over with a bent knee (leg straight to the side you want to roll to), and spending some time in a 'butterfly' position.
At Warman Physio we have experienced physiotherapists that will use a variety of hands-on treatment while you are in-clinic, as well as home programming and exercises so that you can continue to help yourself to feel better between appointments!
PSD can be a draining, exhausting, and very painful experience for some people, and merely annoying, irritating, and minorly problematic for others. Let us help you, help yourself!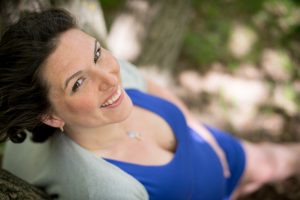 Haylie has been practicing pelvic health and focused in prenatal and post-partum care since graduating from the U of S MPT program in 2011. She officially added to her practice pediatric pelvic floor therapy in 2017. Haylie has been advocating for treatment for women, ensuring appropriate and effective care throughout pregnancy and post-partum, and helping all expecting and post-partum moms ultimately brought her to open her family-friendly clinic since opening in 2014. She now adds to this education and treatment provision her knowledge and experience in pediatric pelvic health providing workshops and presentations in addition to assessment and treatment. At Warman Physio clients are encouraged to bring their infants and children to treatment. Haylie was recognized as YWCA Women of Distinction for Health & Wellness in 2017, the ABEX Young Entrepreneur Award Recipient in 2018, and has been nominated for the 2019 SABEX and WMBEXA Awards.
 References:
E Vermani et al (2009). Pelvic Girdle Pain and Low Back Pain in Pregnancy: A Review. World Institute of Pain. Volume 10, Issue 1 (60-71)
E Richards, G van Kessel, R Virgara, & P Harris (2012). Does antenatal physical therapy for pregnant women with low back pain or pelvic pain improve functional outcomes? A systematic review. Nordic Federation of Societies of Obstetrics and Gynecology. (ahead of print)
MF Mottola et al (2019). 2019 Canadian guideline for physical activity throughout pregnancy. British Journal of Sports Medicine. Volume 52, Issue 21
https://www.warmanphysio.com/wp-content/uploads/2019/04/IMG_9076-e1555018161859.jpg
1736
4212
Haylie Lashta
https://www.warmanphysio.com/wp-content/uploads/2016/05/warmanphysio-300x110.png
Haylie Lashta
2019-04-11 15:30:54
2019-04-11 15:42:04
My Broken Pelvis: Part 2 – Pubic Symphysis