My Broken Pelvis: Part 1 SIJ

SIJ pain – sacroiliac joint – that lower than low back pain that is off to the side but not quite your butt… This pain is commonly aggravated by rolling in bed, standing on one leg (getting dressed!), walking, and getting into/out of a vehicle… Check out the case study and information we have on Pelvic Girdle Pain (SIJ version)
Pelvic Girdle Pain
A 35 year old individual began experiencing pain in the low back off to the left side. Their pain was worse with rolling in bed, standing on one leg to get dressed and is now to the point that they need to sit to get dressed, having pain and difficulty with stairs, the pain gets worse the longer they walk, and they always feel it just in the one spot at the back to start and then it radiates around the hip and into the groin as it gets worse.
Although there are many reasons why someone may have pain with rolling, stairs, and walking, let's go through some of the possible reasons WHY this happens, what we can do about it, and how you can start your road to recovery TODAY!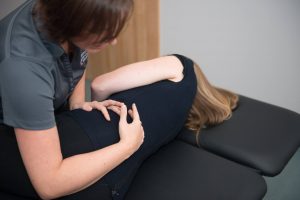 What causes pelvic girdle pain?
When we are thinking of pelvic girdle pain we are specifically thinking of the pubic symphysis (right in the front of the pelvis), the SIJ (the joints between the pelvis and sacrum at the back), and the hips.
For this particular case study we are thinking of the SIJ at the back of the pelvis on one side being more problematic than the other. Why does this happen? For some people pain may stem from an area moving more than the other side, and for others it will be from moving less. In some instances we will have pain due to extra muscle tension across the joint (the gluts), or not enough support, stability, and strength by the muscles… why you have pain will boil down to the change in movement, and the change in tension and how your brain interprets that difference.
Often SIJ dysfunction and pain can arise without a particular cause or injury, and sometimes starts after an injury or particular instance of "ow! That hurts!"
If you have pelvic girdle pain, a physical therapy assessment could benefit you!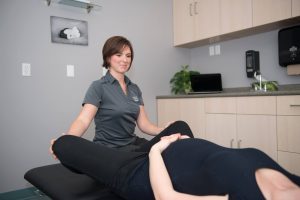 What you may expect from this appointment is a postural assessment to look at your alignment, flexibility of the lower extremity muscles, mobility of the spine, pelvis, and hips, and evaluation of how you walk and move. You physiotherapist will often do some manual techniques to evaluate joint mobility and muscle tension throughout the hips and pelvis as well.
In many instances by the end of the assessment there is a clear driving factor to the pain that can begin being addressed by home programming. This will put you in charge of feeling better, and not relying solely on having to come to the clinic to improve. Your therapist may provide you with a variety of homework items including stretching/re-education of muscles that are providing too much tension, strengthening of muscles that aren't providing enough support, and exercises to help you move with more symmetry to restore balance.
A common question we are asked is how long until I'm better?
The recovery period usually varies from client to client, depending on the severity and frequency of signs and symptoms, the duration of symptoms, the activity level the client is needing to maintain, and the ability to be able to practice their home exercise program. Typically, with a straightforward case we tend to see client's 1x every 1 to 2 weeks for a total of 4 to 6 sessions. These sessions include manual therapy/hands on treatment, as well as progressing exercises for your home program to help you help yourself.
Need to know what can help RIGHT NOW?!
Without an assessment we are unable to determine what will specifically help you with your specific pain (it could be that you don't have an SIJ problem after all!) Since some SIJ dysfunction may come from muscle imbalance, resting in a "butterfly" position (modified cobblers pose as pictured above), and working on activating the glute muscles (your butt!) may prove helpful. However, if something is painful and doesn't seem to be improving (quickly!) find ways to move that are pain-free (or less painful), and schedule an appointment to have it checked out so we can target the underlying cause and give you tips!
Do I have to stop working out?
Probably not. Some things may need to be modified or swapped initially, but if you are a regular exerciser and have goals you are wanting to achieve, then it is our job to help you reach them, pain-free!
Don't delay! Schedule your assessment today to get started your journey to recovery!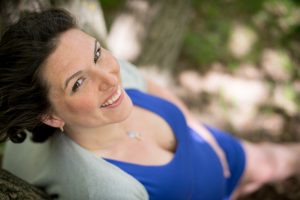 Haylie has been practicing pelvic health and focused in prenatal and post-partum care since graduating from the U of S MPT program in 2011. She officially added to her practice pediatric pelvic floor therapy in 2017. Haylie has been advocating for treatment for women, ensuring appropriate and effective care throughout pregnancy and post-partum, and helping all expecting and post-partum moms ultimately brought her to open her family-friendly clinic since opening in 2014. She now adds to this education and treatment provision her knowledge and experience in pediatric pelvic health providing workshops and presentations in addition to assessment and treatment. At Warman Physio clients are encouraged to bring their infants and children to treatment. Haylie was recognized as YWCA Women of Distinction for Health & Wellness in 2017, the ABEX Young Entrepreneur Award Recipient in 2018, and has been nominated for the 2019 SABEX and WMBEXA Awards.
https://www.warmanphysio.com/wp-content/uploads/2019/04/Copy-of-Copy-of-Copy-of-Copy-of-6-week-session-1.png
1080
1080
Haylie Lashta
https://www.warmanphysio.com/wp-content/uploads/2016/05/warmanphysio-300x110.png
Haylie Lashta
2019-04-04 21:46:25
2019-04-11 15:49:37
My Broken Pelvis: Part 1 SIJ