As with many issues, often we aren't sure if what we are experiencing is normal and expected, if it will just go away, or if we need to have it looked at. For many women who are pregnant and postpartum, this is made even more difficult as we are often told that symptoms we are experiencing are normal because "you've had kids" and that "this is just how it is now" which can delay effective treatment of these issues! Here you can see a case study on Prolapse, which outlines some of the issues that someone may experience.
The presenting symptoms:
A 31 year old woman attends the clinic mentioning a history of intermittent pelvic floor heaviness "feeling like things are falling down" and discomfort. She has noticed that the heaviness has been worse since starting back with weight lifting at her gym 1 month ago. She has two children ages 2 years and 4 months old.  She had continued to go to the gym throughout her pregnancy (symptom free), but notes she had reduced her weights somewhat during her third trimester.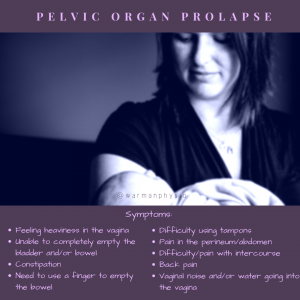 She hadn't returned to the gym until now, as her life has been quite busy since the delivery of her second child! No pelvic floor pain, urinary or fecal incontinence is reported.  She had felt like now was a good time in her life to return to the gym and is quite devastated at this setback. Going to the gym and working out had been an
important part of her life-mentally, socially and physically and she is worried she won't be able to do any activity at all anymore.
She went to see her family physician as was concerned about her symptoms and was referred to pelvic floor physiotherapy for prolapse. She reports no symptoms first thing in the morning, but these progressively worsen as the day goes on.  Some days are better than others with her symptoms.  Lifting weights at her gym and lifting her children aggravate her symptoms.  She notes she did just get over a bad cold and had been coughing/sneezing quite a lot during the past month. She also identifies that she has always had issues with constipation.  Both of her deliveries were vaginal with no instrumentation (forceps or vacuum) or complications. She is currently breastfeeding.
Assessment and Treatment
The client was assessed with an internal pelvic examination by a pelvic floor physical therapist. A Grade 1 cystocele was found. (A cystocele means the prolapse was from the bladder descending into the wall of the vagina and a Grade 1 prolapse means the organ descent was halfway to the vaginal opening). The pelvic floor muscles were weak with a Gr. 2 strength (a weak squeeze and no lift of the pelvic floor muscles) and tight.
The client and the therapist worked together to increase her pelvic floor strength and coordination, as well as to optimize her intraabdominal pressure management systems. Toileting positions and discussion around constipation management were discussed and the client was able to implement these at home. Optimizing postures during breastfeeding and throughout the day were discussed to reduce strain on the pelvic floor and discussed on how to successfully get them implemented at home.  Education on anatomy of the pelvic floor and the pelvic organs/their supports as well as POP was provided which will help the client to take control and understand the why behind the recommendations.
Activity modifications were implemented but keeping her active was part of the plan and exercises were progressed as appropriate.  The client returned to her gynecologist for a pessary fitting to use intermittently during heavier weight lifting at the gym. She was seen in follow up 2 weeks after the initial assessment and then 1x/month for 6 months. She was able to return to her weight lifting and was symptom free with all tasks and activities at the conclusion of therapy, although her Grade 1 prolapse remained.
Have you been struggling with prolapse symptoms? Not sure if your symptoms could be part of prolapse, please feel free to contact us and we will help chat you through what you are experiencing as best we can.
Don't delay start your road to recovery today!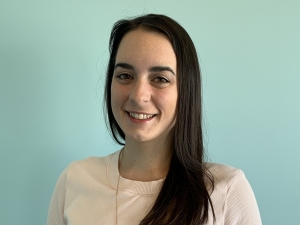 Maja Stroh is a physiotherapist that has a particular interest in pelvic health and perinatal care. She graduated from the U of S MPT program in 2009 and has been working with pelvic health populations since 2013. Maja's interest in helping her clients and spending quality time with her family has brought her to Warman Physio where she will be providing services in the Saskatoon and Warman locations.
https://www.warmanphysio.com/wp-content/uploads/2019/02/Copy-of-Copy-of-Copy-of-6-week-session-3.png
1080
1080
Haylie Lashta
https://www.warmanphysio.com/wp-content/uploads/2016/05/warmanphysio-300x110.png
Haylie Lashta
2019-03-08 06:18:41
2019-03-02 22:24:37
Prolapse – A Case Study