Case Study: A client HD came to the clinic after several weeks of shoulder, shoulder blade and arm pain. This pain started in the shoulder and moved down the arm. The client would describe the pain as 'sharp', 'burning', 'shooting', 'deep achy', and 'pins and needles' depending on what they did. Initially their pain would come and go, but over time the pain would stay for longer periods of time. This client found that sometimes anti-inflammatory medication and massage helped, but it always came back. Since their pain started in their shoulder it was believed that it was a shoulder injury (rotator cuff). After assessment by a physiotherapist it was identified that HD had issues from the neck resulting in shoulder and arm pain. With treatment including home exercises, stretches and programming, the client was able to return to full function and a pain-free state of being!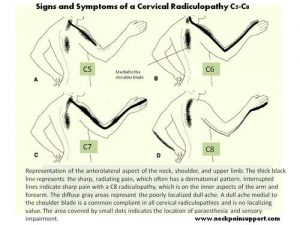 The story of HD is not uncommon. Often people are not sure where to go for a variety of issues and complaints. Your local Warman Physio is able to provide assessment and treatment of any ache or pain occurring within the body, whether it was caused by an injury or 'just showed up' one day.
Physiotherapists are trained to provide assessment and treatment of all the body systems including the muscles, tendons, ligaments, and nervous system to identify what is causing any pain or issue.
Following is a list of conditions that Physiotherapists can help with in the neck and arm:
Disc bulges in the neck

often causes pain as is outlined in the image above with the red highlighted areas depending on the level the bulge is present

Nerve compression or irritation of nerves of the neck

pain down the arm with moving the head a particular direction like in shoulder checking

Carpal Tunnel syndrome

pain and tingling in the hand often upon waking from a night's sleep to start

Rotator cuff injuries

pain in the shoulder often with reaching over head or behind the body

Tennis/Golfer's elbow

pain on the outside/inside of the elbow often with lifting/carrying
How does the neck cause pain in the shoulder and arm?
The body is a complicated group of systems that work together to allow us to complete our everyday tasks. Our neck has 7 vertebra (C1-C7) that go from the base of the head to the base of the neck. Within your neck there are 2 joints at the top and bottom of each vertebra, and most of them are separated by small discs. Our spinal cord is enclosed inside a tunnel within the vertebra. The nerves that go down into the shoulder and arm come out from between the vertebra, through the muscles and down the arm. These nerves then control the muscles (creating movement) as well as sensation (touch, temperature, etc). If something happens to the nerve throughout it's path down into the arm it can create issues in the movement, sensation, or both!Sometimes it is hard to figure out where pain is coming from – the muscles, joints, nerves, tendons (attach muscle to bone) or ligaments (attach bone to bone). Leave the guess work out of your pain and have it assessed by your local Warman Physio! We currently have appointments within 0-2 business days and have accommodating hours for early morning (8 am) and after work (until 8).
https://www.warmanphysio.com/wp-content/uploads/2016/05/13235441_1087731991272760_3289049059303575252_o.jpg
1366
2048
Haylie Lashta
https://www.warmanphysio.com/wp-content/uploads/2016/05/warmanphysio-300x110.png
Haylie Lashta
2017-01-19 16:03:19
2018-11-08 14:58:21
Is your NECK causing your arm or shoulder Pain?